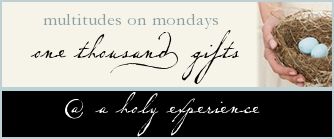 I discovered a new linky that I thought would be perfect to link up to with this new year and my new commitment to renew my spiritual journey. I found it over at
Butterfly Wishes and Wonderland Dreams
.
One of our verses on our wall is "Rejoice in the Lord always." Philippians 4:4. I am ashamed to admit I rarely take the time to rejoice in the Lord and in His many blessings. I am so much more apt to find something to complain about or worry about. I want to change that so badly. I want to be thankful and have a grateful heart. So I am starting this new year with my new Bible Study, my renewed commitment to my Lord and Savior, and this weekly post linked at
A Holy Experience
.
This new year brings so much to be thankful for
I am so thankful for my Lord and Savior, that I have a Lord who is forgiving and loves me through my struggles.
I am thankful for a loving husband who helps with the children and around the house.
I am thankful for the fact that the Wii is again working so I can exercise.
I am thankful I also found my Aerobic DVD so I can have some variety in my workouts.
I am thankful for the Blogging to Bible Study challenge.
I am thankful that our church made available the NIV Daily Bible to help me stay on track with my Bible reading this year.
I am thankful for my girls and the way they enjoy exercising along side mommy.
I am thankful for the developmental milestones that Hannah is reaching (may I remember this as she continues to get into more and more things as crawling is coming soon.)
I am thankful for fellow bloggers who share such great, inspirational linkys.
I am thankful for my camera and the ability to record memories.
And that is my list for now because I still have two posts to finish over at my
main blog
and work on my Bible Study and lesson prep.