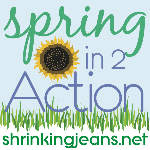 Time for the final weigh in and check in with Spring In2 Action over a The Sisterhood of the Shrinking Jeans.
I was actually surprised by this week's results. I had no time to exercise, okay, fine, I failed to make time. I didn't get up early enough, was spending too much time online. I actually (conveniently) forgot one of my important goals, if I am going to be on the computer I need to exercise for at least 30 minutes. Oops. As you will see below, I didn't do well.

We also had Hannah's birthday this past week, which means birthday cake. I was so proud of myself for refusing to eat the ice cream, and then I went and sneaked quite a bit of frosting (homemade buttercream, I might add). And it was our anniversary so we went out to eat. Needless to say, not my best week this year. Probably my worst.

I think I will never make that water consumption and nibbling chart.

Anyhow, I actually lost weight again this week. Unfortunately I didn't meet those intermediate goals I was aiming for.
This week's weight:
I don't think I will lose 5.5 pounds by tomorrow.
Last week's weight:
A .9 pound loss with all this great exercise:
Starting weight Spring In2 Action Challenge: 237.7
Previous Weight: 226.4
Today's Weight: 225.5
Weight Loss This Week: - .9
Total Loss Since started Challenge: 12.2 pounds
Total Loss since weight loss journey got serious on December 13th 2010: 36.4
Measurements didn't really change this week.
As this challenge is ending I wanted to let everybody know about my new challenge I am going to be hosting in May. A while back I won the book Chicken Soup for the Soul: Shaping The New You from a giveaway that, funnily enough, my current buddy Emy from Wannabe Fit Moms was hosting. I ended up with 2 copies of the book and would love to offer the extra one as a prize. I don't want to just do a giveaway, so I decided, as the two challenges I was involved with are ended, I would offer up my own challenge. This challenge will start May 1st. I will be posting the details shortly, so check back soon and sign up to win a copy of this encouraging book!! If there are enough participants I will consider a offering a second prize. Hope to see you here in May.
Can't wait to see how everyone did as this current challenge comes to a close. Will be visiting shortly.
I am also linking up with