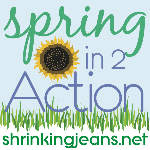 Time to weigh in and check in with Spring In2 Action over a The Sisterhood of the Shrinking Jeans.
I didn't have a very good week this week. I mentioned last week about the headaches that I thought might be related to the green tea. I definitely seemed to be more sensitive to the caffeine this week, so I didn't drink as much green tea. I found myself snacking a lot more and on junkier things than I have been. I also didn't get as much exercise in.

Still have to make that water consumption and nibbling chart. Should have had it for this past week, I may have done better.

Anyhow, I actually lost weight again this week. Unfortunately it was only .5 so I am now doubting the ability to even make my Wii Fit goal. Definitely not getting down to 220 by my birthday.
Starting weight Spring In2 Action Challenge: 237.7
Previous Weight: 226.9
Today's Weight: 226.4
Weight Loss This Week: - .5
Total Loss Since started Challenge: 11.3 pounds
Total Loss since weight loss journey got serious on December 13th 2010: 35.5
Measurements are down another 2 1/2 inches.
This week's weight:
Last week's weight.
And I am noticing that by my math I lost .5, but according to the Wii fit board I lost .4. I'll take my calculation.
As I mentioned, not a lot of exercise this week. I only used the Biggest Loser: The Workout DVD a couple of times. That low intensity work out is quite intense for me. It's the lunges and crunches that I find hard and wear me out.
Here's hoping for a better week this week.
I am also linking up with