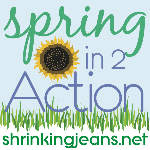 Time to weigh in and check in with Spring In2 Action over a The Sisterhood of the Shrinking Jeans.
I had a much better week than last week. I didn't really get the munchies, surprisingly. I have had a lot of excess energy too. I found myself dancing around the living room several times. One day the girls were watching a Leap Frog DVD and I was jogging and dancing to the music. Not sure if I am going crazy, if it's the extra caffeine from having 2 cups of green tea a day or what. Unfortunately today I am really light headed and I am not sure if it is from the caffeine or not.

I mentioned my plan to make myself a water consumption chart and food nibbling record to hang on the fridge. Still have to do that.

Anyhow, I actually lost weight again this week. I am so excited, though I doubt I will reach 220 by my birthday, I will probably meet my WiiFit goal as I only have to lose another 3 pounds or so.
Starting weight Spring In2 Action Challenge: 237.7
Previous Weight: 229.9
Today's Weight: 226.9
Weight Loss This Week: -3
Total Loss Since started Challenge: 10.8 pounds
Total Loss since weight loss journey got serious on December 13th 2010: 35
Measurements are down another 6 3/4 inches from the beginning of this month, down 14 3/4 inches total. Hubby mentioned I was probably bloated last week as I was only down 2 last week. Wasn't thinking it was at that time of the month already, but it was. I was so glad I didn't have to weigh in Saturday, because it is usually the first couple of days that my weight goes up, which was the problem last month.
I don't think the Wii Board knows how to add. It is always off by .1
I love seeing that downward slope.
Last week's weight:
This week's weight
Woohoo!
Exercise was a tad better:
I don't even have everything recorded. We have The Biggest Loser: The Workout rented from Netflix. My son has been using it more than I have actually. Wow, I had a hard time getting through the "low intensity" workout. The menu is a little confusing. It says for weeks 1-3 we are to alternate Workout 1 and 3. And for weeks 2-4 we are to alternate Workout 2 and 4. We are wondering if the second part should say weeks 4-6 because it is supposed to be a 6 week program. This thing has a lot of squats and lunges which are hard for me. Especially the lunges, I never have been able to get my back leg bent far enough to the ground. Anyway, I used it 2 days and neither day did I finish the workout. It was a time thing. I have been glad to get outside for a walk a couple of times too.
Here are some pictures:
This one is from the end of last month
This is from today: