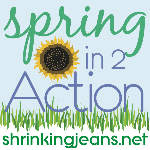 Okay, it is that time of the week already. Time to weigh in and check in with Spring In2 Action over a The Sisterhood of the Shrinking Jeans. I labeled last week as week 1, though they have this week as week 1. A little confused, but aren't I always. I'm just going to keep mine the way it is so as to not confuse myself further.
I really wasn't sure how I was going to do this week. I know I still haven't been doing as much exercise as I was because of my foot. And somehow along the way I have gotta away from some of my other goals. I haven't been exercising twice a day, just once in the morning. I have been spending more time sitting at the computer again. And still haven't managed to get to bed by 11pm. Midnight is about the best I seem to do. I use the excuse that I have my uninterrupted computer time after the children are finally settled down for the night. I really don't know how I spend so much time online though. Gotta work on that bedtime this week.
I have snacked more this week than I had been. Especially while getting meals ready. Sometimes I catch myself and pour myself a glass of water. Gotta remember the water first.
I thought I was doing well with my meals the way they are. Then I was reading The Biggest Loser Cookbook that I got out of the library. According to the book, The Biggest Loser diet consists of 3 meals and 2 snacks. I know they are not the only ones who say that several small meals are better than 3 larger meals. Maybe following that will help the nibbling. So does anyone know if it would be wrong to share that recipe here on my blog?
Speaking of the cookbook, last night I made a beef roast in the crock pot and we had Parmesan Roasted Cauliflower, which is a recipe I found in the book. Unfortunately our small town market does not carry reduced fat grated parmesan cheese, so I used the regular. It was really tasty though, even though hubby thought it needed more pepper and the children thought it needed less. Looking forward to another recipe out of the book in a couple of nights to complement our baked fish.
I also tried to up my green tea intake to 2 cups a day. Two problems though. One- I think it may be too much caffeine. Two- I am finding it hard to find a time to fit it in and get my water. Gonna try again this week. If it doesn't work I will go back to the one cup as it does seem to be helping me burn fat.
Here are the results of this week:
I am down to 232.8! That is about where I started my weight loss journey several years before meeting my hubby. I had gotten down in the 170's at that point and had put on lots of weight after getting married and having three children so close together and not losing the weight in between babies. My highest weight was 261 back in Dec and I never, ever, ever want to go back there. I am thrilled to be back in the 230's and can't wait to see the weight come off some more.
Last week's weight
And that loss was achieved without all the exercise I was doing a few weeks ago, before the foot injury.
Here's what I do most. I have had to do away with some of my favorite strength exercises for the time being because of not being able to balance on one foot at a time.
I know it doesn't seem like I could do a run. I didn't really. Amelia wanted to do it with me, so I sort of walked and swung my arms (aka the wii mote) back and forth.
I'm within reach of my intermediate goal for the WiiFit. I need to lose 1.5 pounds by next week. I think 220 by my birthday is doable.
And here is precious Hannah, thinking she needs to exercise.
Actually she is practicing her standing!! (Had to share)
Starting weight Spring In2 Action Challenge: 237.7
Previous Weight: 236.6
Today's Weight: 232.8
Weight Loss This Week: 3.8 pounds
Total Loss Since started Challenge: 4.9 pounds
Total Loss since weight loss journey got serious on December 13th 2010: 29.1
And I lost 6 1/2 inches this week!